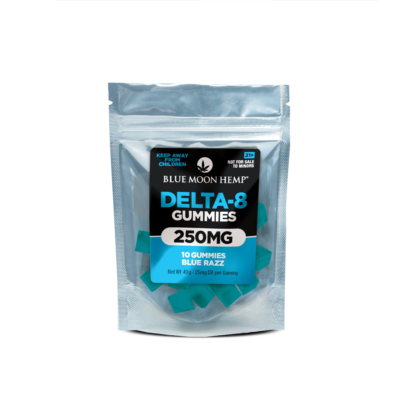 Blue Moon Hemp D8 Blue Razz Gummies 250mg
There's a reason why these gummies are our best-selling product; They're delicious enough to make it hard to stop at just one — but potent enough to warrant splitting them in half. Each gummy contains 25 mg of delta 8 — which is well above the threshold dose of around 10 mg. Each jar comes with 10 individual gummies in a delicious Blue Razz flavor. These flavorful soft chews will redefine the way you look at hemp-derived edibles.
Delta 8 THC is the middle ground between THC and CBD. Delta-8 is a different form of THC that is found within the hemp plant. While Delta-9 is what is responsible for the psychoactive properties of the plant family, Delta-8 is chemically different.  If you're new to delta 8, start with half a gummy and wait an hour before taking more. These gummies are potent, so don't say we didn't warn you.
$22.99