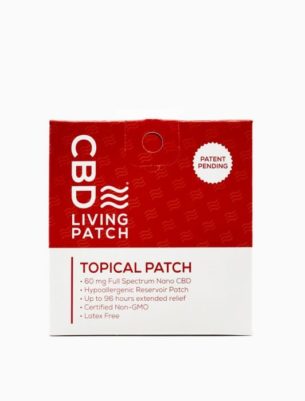 CBD Living Topical Patch
This transdermal CBD patch is infused with 60 mg of broad spectrum nano-CBD.
Provides up to 96 hours of extended relief. Stays put thanks to medical grade adhesive.
Utilizes CBD Living's proprietary Skin Retention Technology, allowing nutrients to better penetrate the layers of the skin, and stay on the skin longer, for lasting relief.
$10.99
Proprietary Broad Spectrum Nano Hemp Extract (Cannabidiol / CBD) 60 mg, Natural Terpenes (Myristate, Palmitate, Limonene), Coconut Oil, Sunflower Lecithin, Aloe Vera Polysaccharides, Linoleic Acid, Oleic Acid, Sweet Almond Oil, Red Palm Oil, Shea Butter, Sunflower Oil Extract, Persea Gratissima Oil, Eucalyptus Oil, Sage, Citrus Essential Oil.