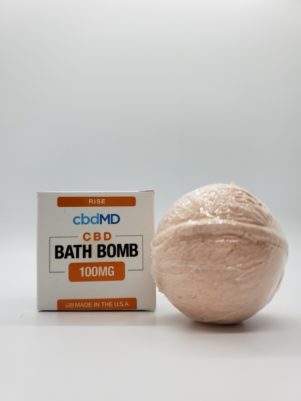 CBD MD Bath Bomb Rise 100mg
Made with premium CBD and essential oils, cbdMD's Signature Collection of CBD bath bombs revitalizes and relaxes. Each bath bomb contains 100 mg of premium CBD with no artificial dyes or preservatives. Coloring is non-staining and absorption-safe, allowing you to enjoy the CBD experience any time of the day or night.
Oils of frankincense, lavender, eucalyptus, and our special blend
Epsom salts for healthy skin
Available in six color/scent combinations
$11.99
Sodium Bicarbonate (Baking Soda), Anhydrous (Citric Acid), Magnesium Sulfate (Epsom Salt), Corn Starch, Kaolin Clay, Sodium Lauryl Sulfoacetate, Water, Coconut Oil, Polysorbate 80, Essential Oils and Fragrances, Cannabidiol (CBD), and Food Coloring.