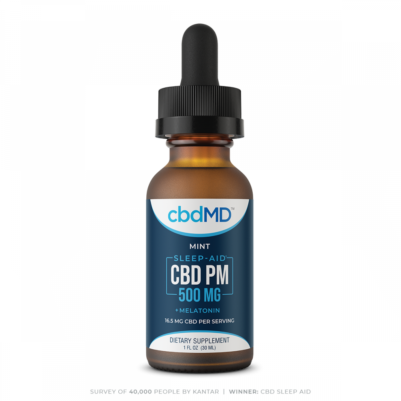 CBD MD Sleep-Aid 500mg
If you're wondering what the best CBD oil for sleep is, look no further than CBD PM. This award winning CBD product is packed with 500 mg of CBD, 150 mg of melatonin, and a blend of herbal extracts.
Hemp extracts (Cannabidiol, Cannabinol, Cannabigerol)
Melatonin, chamomile, valerian root extract, and other herbs to promote relaxation
Vegan
Gluten-free
Mint flavor
$35.99
Hemp Extract (Cannabidiol, Cannabigerol, Cannabinol), Proprietary Blend (Valerian Root Extract [Valeriana Wallichii], Hops Flower Extract [Humulus Lupulus], Lemon Balm Leaf/Flower Extract [Melissa Officinalis], Chamomile Flower Extract [Matricaria Recutita], Passion Flower Extract [Passiflora Incarnata]), Melatonin, MCT Oil, and Natural Flavor.