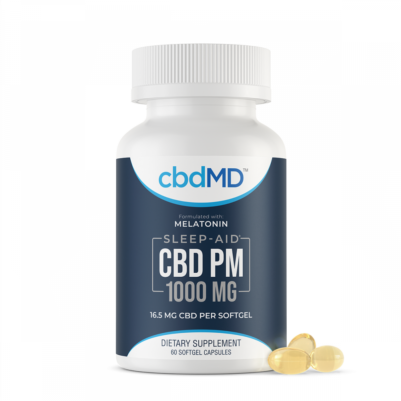 CBD MD PM 1000mg Sleep Aid
Get all the benefits of CBD PM in a convenient capsule form! Each CBD softgel packs 16.7 mg of CBD and 3 mg of melatonin, along with vitamin E and our unique blend of soothing herbs. Precisely measured and easy to swallow, our CBD softgel capsules are an excellent option for at home or on the road.
Hemp extracts (Cannabidiol, Cannabinol, Cannabigerol)
Melatonin, chamomile, valerian root extract, and other herbs to promote relaxation
$61.99
Hemp Extract (Cannabidiol, Cannabigerol, Cannabinol), Proprietary Blend (Valerian Root Extract [Valeriana Wallichii], Hops Flower Extract [Humulus Lupulus], Lemon Balm Leaf/Flower Extract [Melissa Officinalis], Chamomile Flower Extract [Matricaria Recutita], Passion Flower Extract [Passiflora Incarnata]),, Melatonin, MCT Oil, Gelatin, Vegetable Glycerin, and Mixed Tocopherols (Vitamin E).