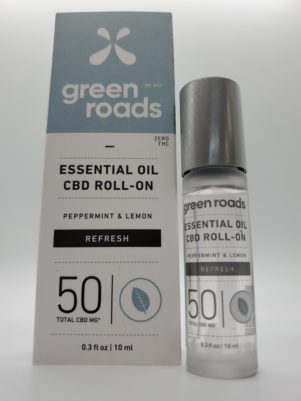 Green Roads Essential Oil Roll On 50mg REFRESH
Green Roads offers you a refreshing blend of cooling peppermint, fresh citrus, and soothing cannabinoids. Enjoy!
With 50mg of hemp compounds
Refreshing lemon and cooling peppermint scents awaken your senses
50mg of soothing hemp compounds
Easy to use roll-on
Fits perfectly in your pocket or purse
A unique wellness experience for your body & mind
$24.99
Simmodsia chinesis (Jojoba) Seed Oil, Mentha piperita (Peppermint) Oil, Melaleuca alternifolia (Tea Tree) Oil, Rosmarinus officinalis (Rosemary) Oil, Citrus limon (Lemon) Oil, Hemp Derived Cannabinoid Extract, and Alpha Pinene Terpenes.