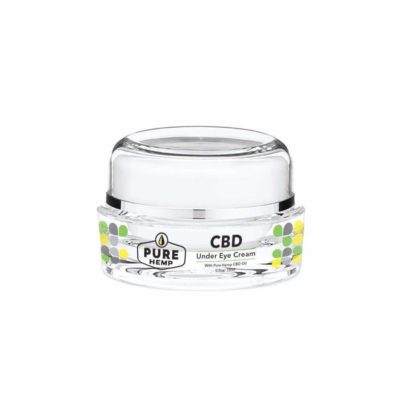 Pure Hemp Under Eye Cream
With daily use in the morning and at night of this intensive, anti-aging cream infused with CBD your eyes may appear brighter and lighter, regain firmness and elasticity, remain hydrated and moisturized.  Our CBD under eye cream product is a winning combination when incorporated into your daily and nightly routine as a partner with our face creams. The skin under your eye is ten time thinner than the rest of the skin on your face and it's often one of the first to show signs of aging.
$30.00
Purified Water, Glycerin, Medicago Sativa (Alfalfa) Seed Extract, Hydrolyzed Lupine Protein, Saccharomyces Cervisiae Extract, Butylene Glycol, Persea Gratissima (Avocado) Oil, Simmondsia Chinensis (Jojoba) Seed Oil, Stearic Acid, Cetyl Alcohol, Hydrolyzed Collagen, Retinol, Glyceryl Stearate, Peg 100, Dimethicone, Caprylic/Capric Triglyceride, PCR Hemp Oil , Peg-16 Macadamia Glycerides, Octyldodecanol, Propylene Glycol, Zea Mays (Corn) Oil, Tocopheryl Acetate, Cholecalciferol, Retinyl Palmitate, Ascorbic Acid, Pyridoxine HCI, Silicate, Sodium Propoxyhydroxipropyl Thiosulfate, Silica, Polysorbate 20, Phenoxyethanol, Caprylyl Glycol, Potassium Sorbate, Hexylene Glycol.